If you want to play on TOP-GTA servers (GTA ONLINE) you need:
Grand Theft Auto: San Andreas (without mods) (open world action-adventure video game developed by Rockstar North and published by Rockstar Games).
Multi Theft Auto (multiplayer modification for the Microsoft Windows version of Rockstar North game Grand Theft Auto: San Andreas that adds online multiplayer functionality).
I already have Multi Theft Auto client (MTA)
We made universal, safe and useful Download Manager that can download and install all required components for you.

TOP-GTA Download Manager
Download Manager.exe is an executable file developed for the Microsoft Windows. Since this file doesn't have a digital signature, the "Unknown Publisher" message will be shown. Also it can be blocked by any modern Antivirus Software due the same issue.
If you already have Multi Theft Auto (MTA) then you can download our resources via this manager. It will save your time. Just choose Multi Theft Auto Resources (TOP-GTA Cache v1.6) in Download Manager list (screenshot above) and click on "Download".
When all packages was downloaded you have to click on "Continue" (if it wasn't proceed automatically).
You can choose location for files extraction. Just choose any directory that you prefer or don't change this field. Click on "Install" and wait.
Right after installation you will able to connect to any TOP-GTA server via our Launcher (you will see a link called TOP-GTA on your Desktop).
MTA Servers List
If you have problems with MTA then look here: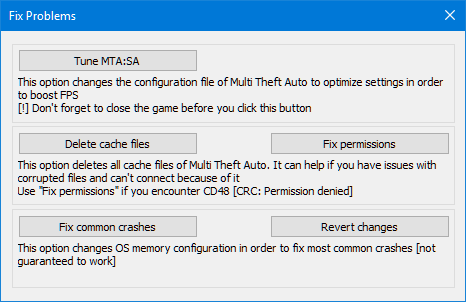 TOP-GTA MTA Repair Tool (built in Launcher)
TOP-GTA MTA Launcher is a servers browser that can provide you easy access to our servers. This program also includes a component for fixing problems with MTA. You can use it to solve problems like Low FPS, Game crashing and some other issues.
Button "Set up MTA" will change config of your MTA and some GTA:SA files. Most changes affect MTA settings (like "grass", "anisotropic filtering", "streaming memory"). It can increase FPS and make game more stable.
Button "Fix crash issues" will change your virtual memory count, paging file size and some other Windows (OS) parameters that can solve popular crash types. This option can require Administrator rights.
Button "Delete MTA Cache" will delete all files in cache folder of MTA. You can use it to solve problems or just to increase free space on PC.